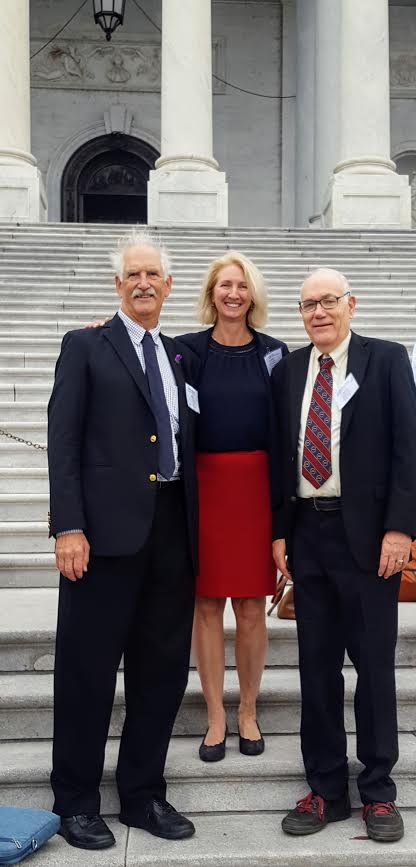 Center – NNESAM president Dr. Kern
Left- NNESAM member Dr. Goldsmith
Right- NNESAM president-elect Dr. Berry
I was honored to be among three representatives of the Northern New England Society of Addiction Medicine who had the opportunity to attend ASAM's annual Hill Day in Washington DC on September 16 and 17. President-elect Jim Berry, Past ASAM President Jeff Goldsmith and I spent a day on Capitol Hill, visiting the offices of Representatives and Senators from Maine and New Hampshire. Our goal was to convey a message on the importance of their support for key legislative priorities which will effect the care for all our patients.
This year's theme was "Teach It, Standardize It and Cover It".
Teach It speaks to the need for a stronger addition treatment workforce. Key legislation includes the Opioid Workforce Act of 2019, which would provide funds to increase the number of Addiction Medicine fellowships nationally, and two accompanying appropriations bills to support for addiction treatment professionals.
"Standardize It" would introduce some new legislation to ensure all prescribers of controlled medications receive some education in evidence-based addiction prevention and treatment.
"Cover It" refers to twobills, the Humane Correctional Health Care Act and the Community Re-entry through Addiction Treatment to Enhance (CREATE), both of which address broadening coverage for those within the criminal justice system who need addiction treatment.
We were among ASAM chapter leaders from across the country, who together represent more than 6,000 physicians and other healthcare professionals who specialize in the treatment of addiction.
This opportunity to carry a message to Washington for advocacy was a reminder to me that our region, each of our states, and each of us as individuals have a role to play as advocates for our patients, and in helping to ensure that the most at-risk have access to evidence-based and lifesaving addiction treatment.
Audrey Kern MD, FASAM